Description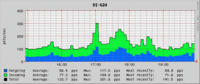 di624stats.pl is a Perl script that screen-scrapes the Web interface of a D-Link DI-624 wireless NAT router to gather traffic statistics. You can use RRDtool to store these statistics and generate graphs. Instructions for using di624stats.pl in conjunction with RRDtool are included.
We have a FAQ page in case you run into problems.
Download
Development
Credits
Author: Ben Ransford.
D-Link should be commended for making a fine product. However, they should support SNMP in their consumer-grade routers. :-)
People deserving thanks for testing/feedback/development: Örjan Persson.